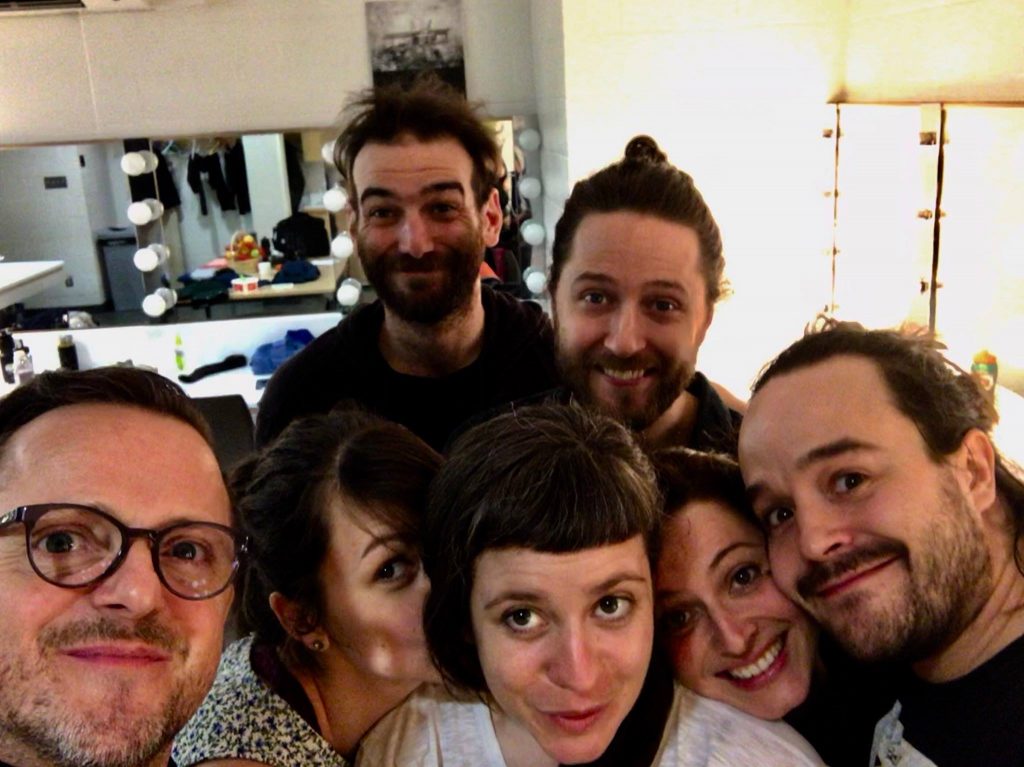 We took the time to enjoy every moment with the team and to discuss with the youth audience who really enjoyed their experience! After being presented in Quebec, New-Brunswick, Ontario and France since 2014, it is the end of a chapter of touring for L'ÉVEIL in Laval during Rencontres Théâtre Ados.
We would like to warmly thank everyone who took part in the making of the show:
Co-creator and writer: Marie-Josée Bastien
Writer: Steve Gagnon
Performers during the creation: Jean-François Duke, Gabriel Fournier, Odile-Amélie Peters, André Robillard, Claudiane Ruelland, Ariane Voineau
Replacing performers: Alexandrine Latendresse, Claude Breton Potvin, Lila-Mae Talbot, Gabriel Cloutier-Tremblay, Olivier Arteau
Lighting: Antoine Caron
Music: Josué Beaucage
Video: Eliot Laprise
Costumes: Sébastien Dionne
Photography: Daniel Richard
Help with scenography: Christian Fontaine
A special thanks to all the presenters who received us with open arms for the past four years: Le Festival Les Coups de Théâtre, Théâtre Périscope, La Rotonde, Le Festival Accès-danse, Festival Novado de Rodez, Espace François Mitterand de Figeac, Théâtre La Maison du Peuple de Millau, École secondaire Cavelier à LaSalle, Maison des Arts de Laval, Salle André-Prévost à St-Jérôme, Carrefour Beausoleil à Miramichi, Centr'Art à Caraquet, Salle Anaïs-Allard-Rousseau à Trois-Rivières, Théâtre La Catapulte à Ottawa, Fêtes internationales du théâtre de Valleyfield and le festival Rencontre Théâtre Ados.
Finally, a heartfelt thanks to the thousands of young people and children we met on our road who made it a success and most of all for being able to share it!
Strongly inspired by the end of this cycle, we are more than ready for more adventures and, who knows, we might even repeat the experience!